The pineapple motif comes from a look worn by Linda Evangelista in a 1992 Oscar collection; they'd noticed it before and never been interested in it, but after this pandemic year they wanted something "happy and light."
It appears as a block print on the hem of a halter dress and in life-like color on a bandeau top with pouf sleeves. "Piña coladas all day long," Garcia riffed. Archival motifs of more recent vintage, circa spring 2014, say, were revived with new painting treatments.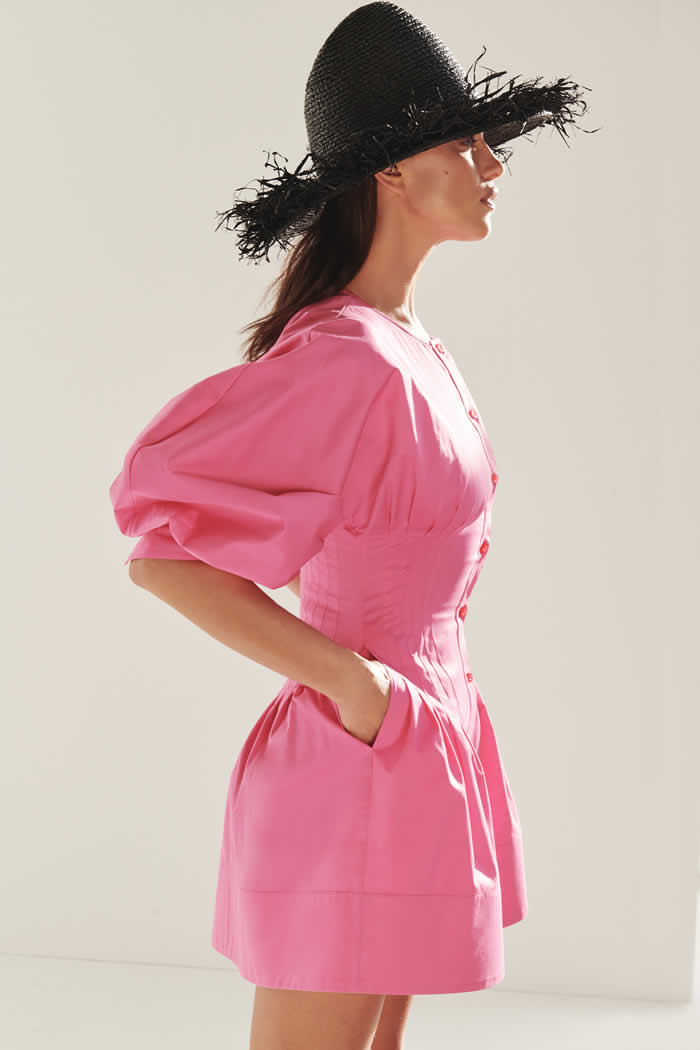 As at Carolina Herrera, another uptown brand taken over by a plugged-in millennial, the OdlR designers are getting behind thigh-grazing lengths in a big way; 2021 could be the year that the silhouette, which has been in the fashion atmosphere for a while now, really goes mainstream. Kim and Garcia like it for both day and night; beyond a generous array of shorts, there are knit ice-skater dresses, strapless cocktail poufs, and a playful striped romper.
The collection continues to get more casual in other ways. The party dresses that used to be the delight of Oscar de la Renta's shows have ceded to caftans, at least for the WFH time being. For novelty's sake, they cut one caftan like a shirtdress and styled it unbuttoned (note the jeweled buttons) over shorts.