Zachary Levi and Missy Peregrym have married in a secret ceremony in Maui. The Chuck actor and the Rookie Blue actress, who kept their relationship under wraps, shared the news with their Twitter followers by posting a sweet snap of them wearing matching Mr and Mrs hoodies after their weekend wedding.
Missy, 32, first tweeted the picture and wrote: 'That coffee date was UNREAL @zacharylevi," she Tweeted, adding the hashtag, "#marriedinmaui,' while 33-year-old Zachary retweeted it and wrote: 'these dreams and goals are really workin out'.
Zachary, 33 and 32-year-old Missy have managed to keep their relationship out of the limelight but a few days earlier, Peregrym, who broke out in the 2006 gymnastics movie Stick It, hinted about those "dreams and goals" in a Tweet to her beau. "Hey @ZacharyLevi, great job at the Tony's," she wrote. "You're a real babe alert. How about we grab a coffee and talk about your dreams and goals."
And Zachary responded, 'Name the place and time. I'll bring my own mug. Not my typical move, but I'm feelin like takin a chance.'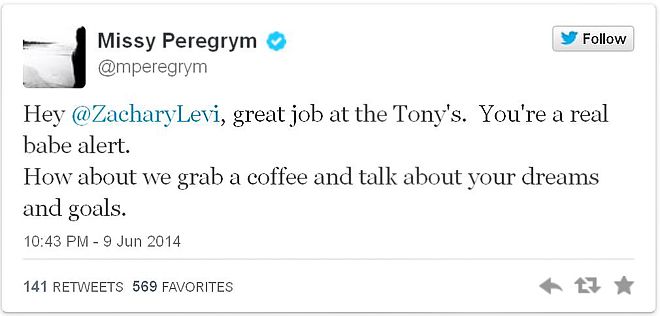 The couple's close friends and family knew about the wedding and Avatar actor Joel David Moore admitted keeping it a secret was tough.
They did keep their courtship on the DL, so it's not a complete surprise that their wedding was also a very small and intimate affair. And if you didn't score an invite, don't be too mad: Only very close friends and family members were in attendance, says a source, noting that "I do's" were exchanged in an absolutely "beautiful ceremony."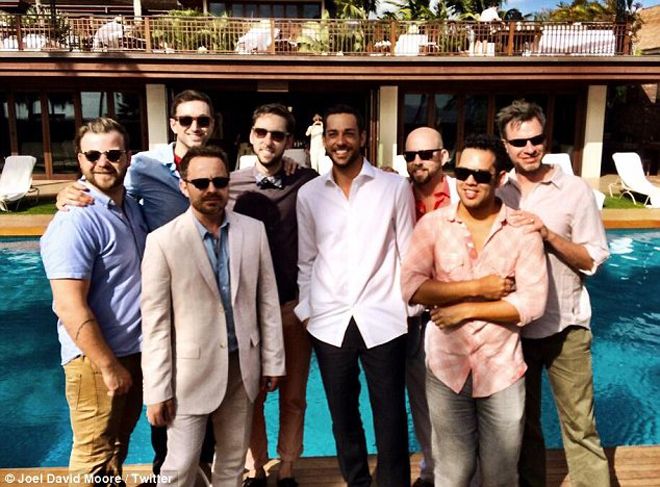 The groom posed for pictures with some of his close pals who attended the secret nuptials in Maui
A source close to the couple revealed that Maui holds special meaning for the newlyweds which is why they chose the Hawaiian island to tie the knot. The insider said: 'He's said she's the one. (Maui) has meaning for them.'