The store, located at 140 NE 39th Street, represents the new, modern look of Vuitton, while paying homage to Miami Beach's architectural history. It's also the first time that Vuitton's women's ready-to-wear will be featured on the main floor.
"I really believe that the Design District will be a very important store for us because you will have a mix of international and local clients. The expectation will be very high from clients around the world. They'll expect an exceptional level of service and a unique experience," said Anthony Ledru, president and chief executive officer of Louis Vuitton Americas.
Ledru called the new location "spectacular, quite special and quite different." The company declined to reveal first-year projections and square footage of its newest unit, representing its 15th in Florida; 114th in the U.S. and 141st in the Americas (North and Latin America).
"Miami has been really growing faster than the rest of the U.S. market. It used to be a very important regional hub before it became a global hub for luxury," said Ledru, citing Vuitton's presence in Miami for more than 30 years. The company has seen a strong Latin American presence from Brazil, Argentina, Colombia and Venezuela, as well as a new surge from Europe, especially from Russia. It's also starting to see a Chinese clientele, and lot more domestic tourism, which has driven "tremendous growth," he said. Ledru also noted how much more populated the city has become. "Ten years ago, you could drive from downtown to Aventura in 30 minutes. Today, it can take up to one hour. If you really want to serve the Miami market, you must have several locations," he said. In the Miami area, Vuitton has a freestanding store in Aventura and in-store locations in Aventura, Bal Harbour, Coral Gables, Dadeland and Fort Lauderdale.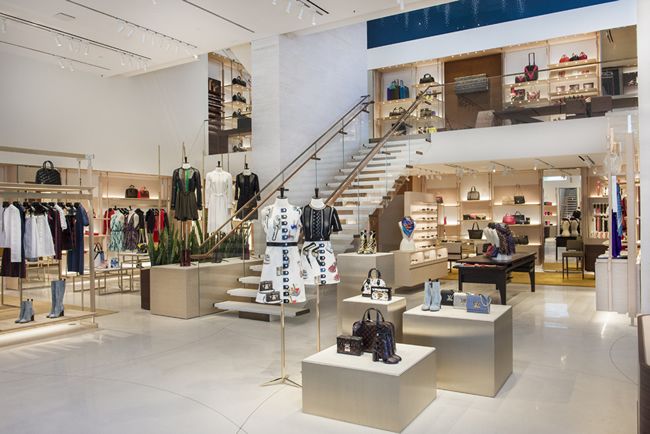 Ledru said the store will feature several original artworks by contemporary artists. "We're trying to mix modernity with local architecture. We have a sincere, genuine link to the art world," he said.
The store's facade was designed by Japanese architect Jun Aoki in collaboration with Mirei Uchibe. Aoki worked on the facade of Vuitton's Matsuya Ginza store in Tokyo. Aluminum panels are arranged in varying frequency as a geometric and architectural nod to Vuitton's iconic Damier pattern. The store boasts double height entrances and strategically placed brise-soleil mesh in the same abstract Damier pattern, which allows sunlight to flow into the store. At night, the facade becomes a light box, lit up by LED lights radiating from behind the grid of "quilted" panels.
Designed with an open floor plan, the store's centerpiece is a grand staircase that's visible from the exterior of the building. Light oak floors, stark white walls and museum lighting evoke a gallery atmosphere. Terrazzo inlay stairs wrap around a striated limestone column in the center of the store. The staircase has glass paneling and handrails wrapped in Louis Vuitton Nomade leather.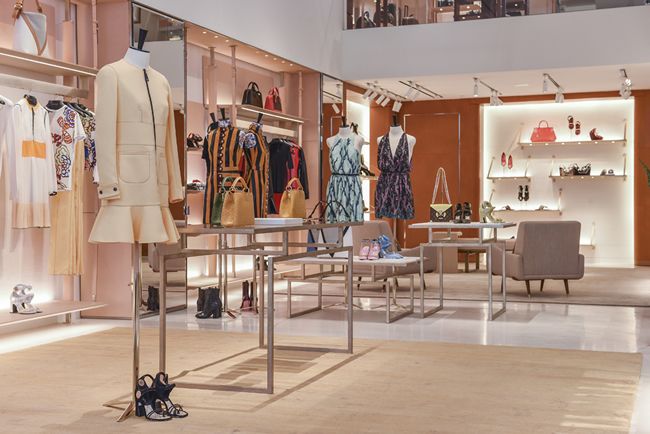 On the main floor is women's rtw, along with women's leather goods, accessories and shoes. The store will open with Nicolas Ghesquière's spring women's runway collection. "Honestly, we expect rtw to be quite important," said Ledru. The mezzanine level, a half-flight up, is devoted to men's and women's travel pieces. That area spotlights Hothouse, a large, 36-foot-high artwork by Miami-born artist Teresita Fernández. The piece is made of translucent blue glass and more than 16,000 cabochon mirrors that create multiple reflections of the store's interior.
Men's wear is located on the second floor, with offerings in rtw, leather goods and accessories. The store will open with the spring collection by Kim Jones, artistic director of men's wear. The second floor also houses a series of watercolor drawings of Saint Tropez scenery by André, commissioned by Louis Vuitton in 2010, and a group of historic celestial photographs from NASA. The store also provides clients with a gallery space on the third floor, providing guests with an opportunity to enjoy the Miami weather. Vuitton plans to organize cocktails and small events on the rooftop, said Ledru.
The store will feature a few exclusives for women and men such as a monogram hardsided travel case with custom coral and light blue lining; the men's Montecarlo car shoe in anthracite colored python with a custom red lining, and the women's Tempo sneaker in purple python, calf and suede leathers. Vuitton will offer limited-edition crocodile and ostrich Capucines bags in bright, playful colors such as violet, blue and kiwi, as well as a summer travel capsule collection and exclusive Ruben Toledo Artist's Editions book.
The new store opens today for top clients and Friday to the public, followed by a cocktail party on April 16.