"Everybody is in love with the Ganni Girls," boasted the Danish label's chief executive officer Andrea Baldo.
Baldo joined the business three years ago, following its sale to L Catterton, and has since been working to take it global. The ever-growing power of the Ganni Girls community — which is a popular hashtag on Instagram but also a real-life community of women who are fully dedicated to the brand's funky prints, loose silhouettes and Peter Pan collars — has meant that it's been smooth sailing so far.
Having laid the foundations, Baldo is ready to take things up a notch and turn Ganni into a truly global label — with the U.S. and China top of the agenda.
Ganni's hybrid spring 2022 show at Copenhagen Fashion Week on Thursday, which saw live broadcasts and conversations take place throughout the week and culminate with a tight yet impressive lineup, presented at the top of the city's artificial ski slope Copenhill, also signaled that the brand is ready for takeoff.
The collection, dedicated to optimism and the joy of living life again, showed the increasing breadth of the Ganni offer, which extends beyond its popular printed dresses to knits, outerwear, sportswear, a growing family of rugged-soled boots and loafers, as well as more experimental crocheted or appliquéd pieces.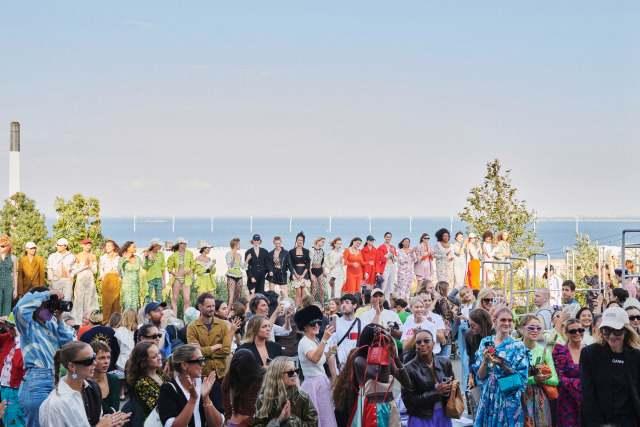 "It's really about marrying good design with a price point that's reachable," said Baldo, adding that part of the brand's success formula is the 'heroes' it managed to create in every category, from its quilted coats to its crystal-encrusted knits, rubber boots and Peter Pan-collared shirts.
A full denim range and a collection of sustainably made bags — created by a dedicated accessories team that sits in Paris — are up next.
On a business level, this signature carefree style and the brand's commitment to "honest price points" has meant that an increasing number of women around the world want to identify themselves as Ganni Girls.
The U.S. has already turned into the label's biggest market in the last three years, surpassing its well-established retail and wholesale businesses in its home of Scandinavia. There have been openings on Melrose Avenue in Los Angeles and Mercer Street in New York, as well as a dedicated showroom and local team.
With the U.S. now being "the most important market" for Ganni, there is increased focus in offering more localized services, hence the brand's latest opening in Williamsburg, where many Ganni Girls reside.
There are also markets like South Korea and Australia, which grew organically given the amount of Ganni Girls there, so the brand has been working to build dedicated e-commerce sites and is looking at physical retail locations in those countries, too.
"There's been a lot of natural growth of the community because they resonate with the Ganni style. I think that Ditte [Reffstrup, the brand's creative director] really created something so distinct. She deserves a lot of credit for that," said Baldo.
Stores in Paris and Amsterdam are in the works and the next big focus will be on conquering China: The label made its first steps in the market through third-party retailers like Net-a-porter and Ssense, and three months ago opened its own store on Tmall.
Read the original article on wwd