The Oscars are the Super Bowl of red carpets, and everyone who shows up generally brings it. But that doesn't always mean they nail it. Here, are our superlatives for the best, worst, and most disappointing looks of the night..
1.SEXIEST SURPRISE: SAOIRSE RONAN IN CUSTOM CALVIN KLEIN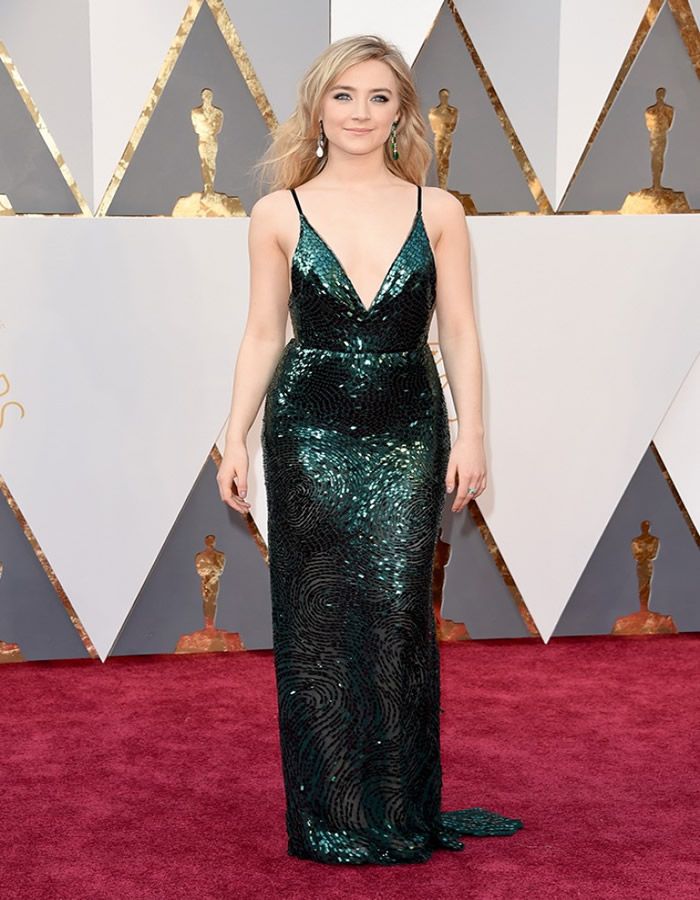 Simply put, she nailed it. This elegant custom gown is meaningful — Saoirse said she decided to wear green to honor her home country of Ireland — but it's also subtly sexy, and a great way for Saoirse to tie a bow on her first big awards season as a proper grown-up star.
2.BIGGEST YAWN: ROONEY MARA IN GIVENCHY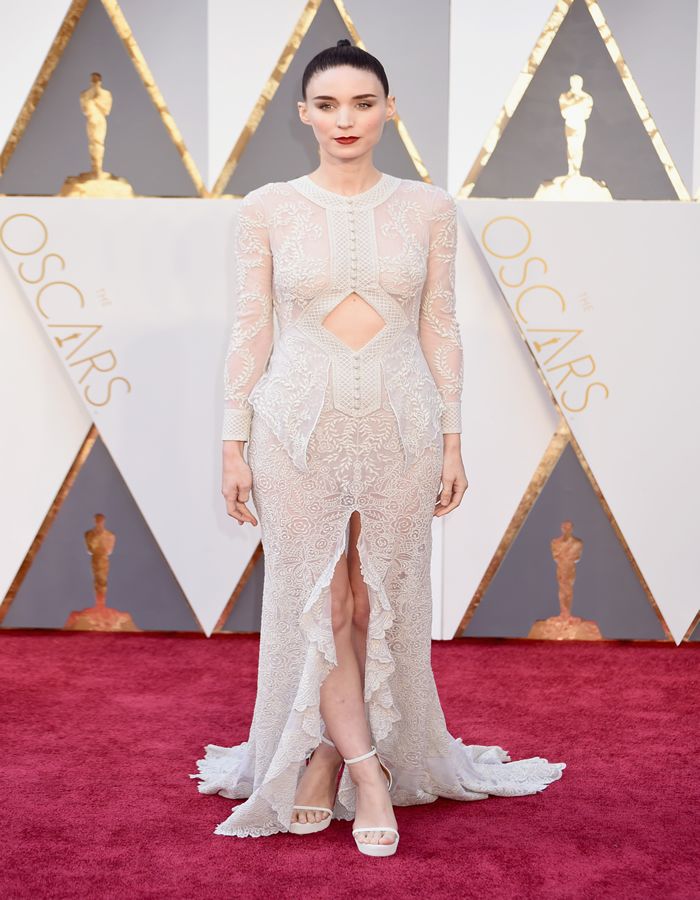 It may seem crazy to suggest that a woman dressed as the bride in an intergalactic wedding looks boring. But it doesn't matter how well she nails the deep lipstick with it: We are so very, very weary of seeing Rooney Mara in this beige color. If she's not in black, she's in this; if it's not see-through, it wants to be; if there aren't misbegotten buttons, there are slits or ruffles, or both. The red carpet often works as a dialogue between the star, presenting herself a certain way, and her audience. This has turned into a monologue, and the crowd fell asleep five minutes ago. Freshen it up, girl. Indeed, take a page from this lady.
3.MOST LIKELY TO DRESS LIKE A NOMINEE: NAOMI WATTS IN ARMANI PRIVE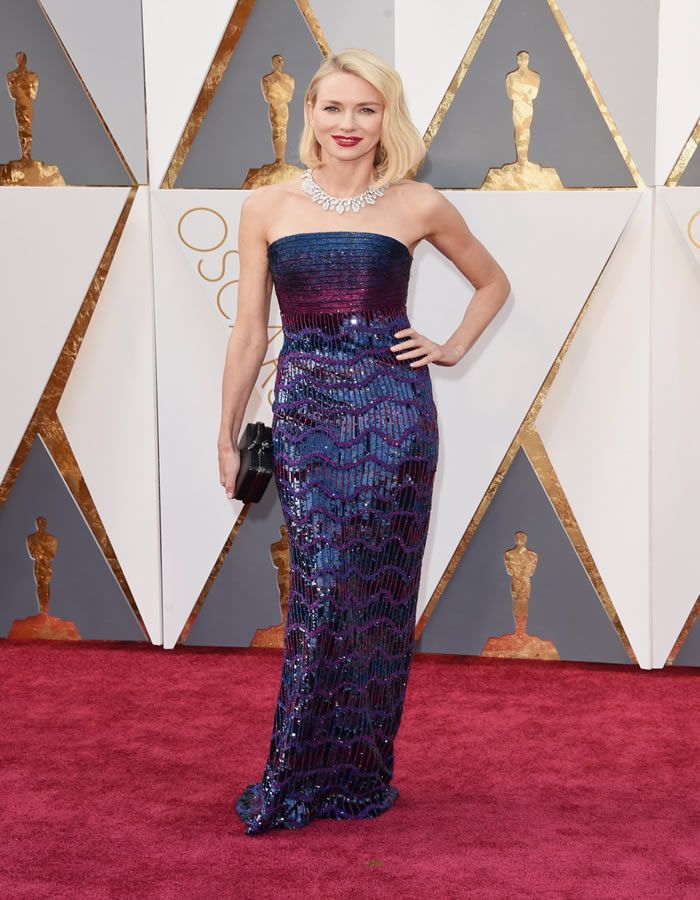 Ten years ago, she wore two – two! -ruffled disasters to the Oscars that each landed her on worst-dressed lists. In the interim, Naomi's become a stealth ace of the red carpet, culminating in this massively captivating sequined Armani. It's official: "Naomi Watts will not sleep on a major awards ceremony" is right up there with death, taxes, and the Kardashians as the world's only certainties.
4.BEST BATMAN: KERRY WASHINGTON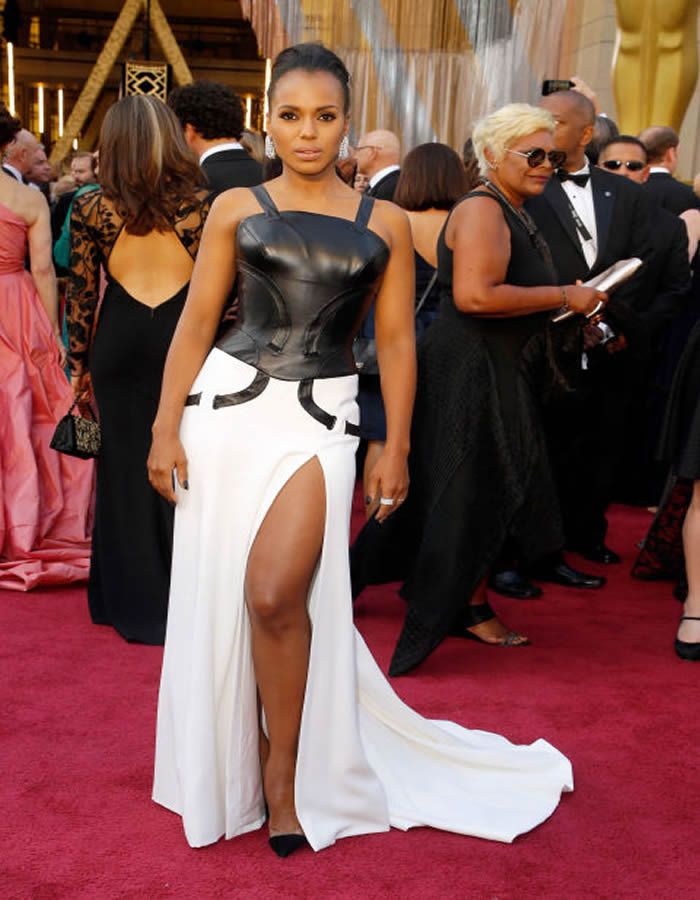 Move over, Ben Batfleck. Kerry's leather breastplate is way, way foxier.
5.BEST REVENGE: JENNIFER GARNER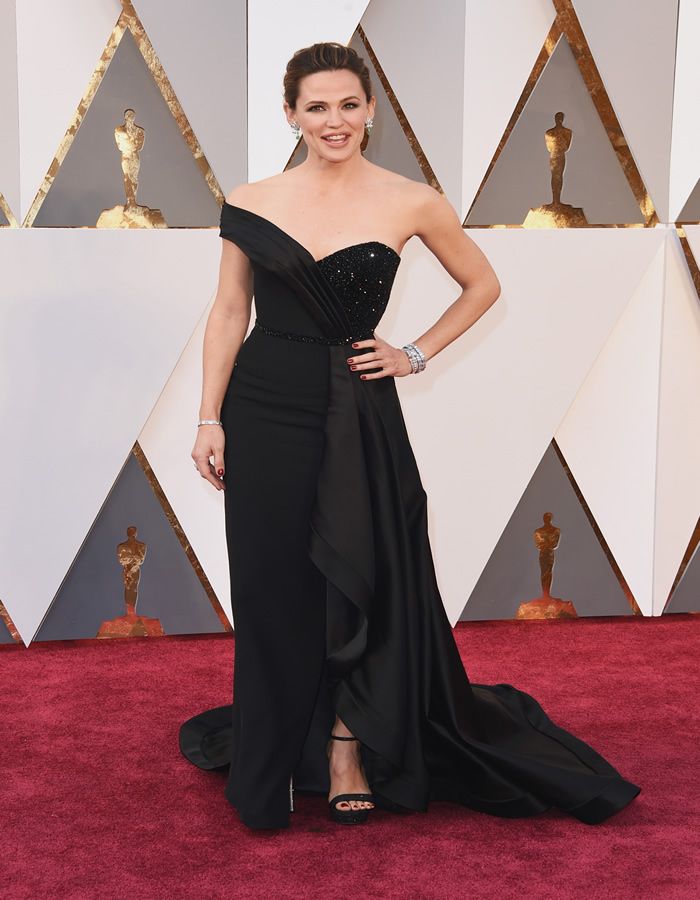 Keep moving over, Ben, because everything's coming up Sydney Bristow this weekend: First, Jennifer dazzled the world with a frank and brilliant, and brilliantly frank, interview in Vanity Fair about her divorce — one in which she artfully said nothing that would embarrass her kids, never made herself the victim, and yet still made plain who the douche is. Then she stepped on the Oscars red carpet in this dazzling black gown with an edgy pedicure, gorgeous jewels, and that face. Talk about surfing the crest of your wave in style.
6.ODDEST TAILORING: LADY GAGA IN BRANDON MAXWELL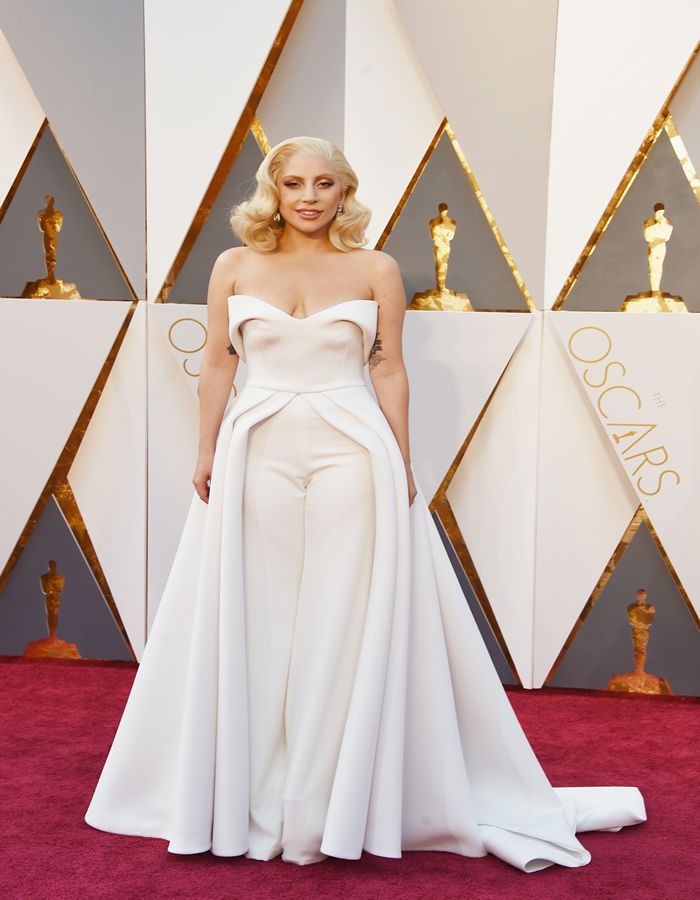 Lady Gaga is fully clothed, and yet we are still somehow required to stare straight at her crotch. That is, when we're not frowning at whatever that bodice is doing to her chest. Maxwell is her longtime stylist; you'd think he'd have his game more on point here.
7.BEST DUVET: ALICIA VIKANDER IN LOUIS VUITTON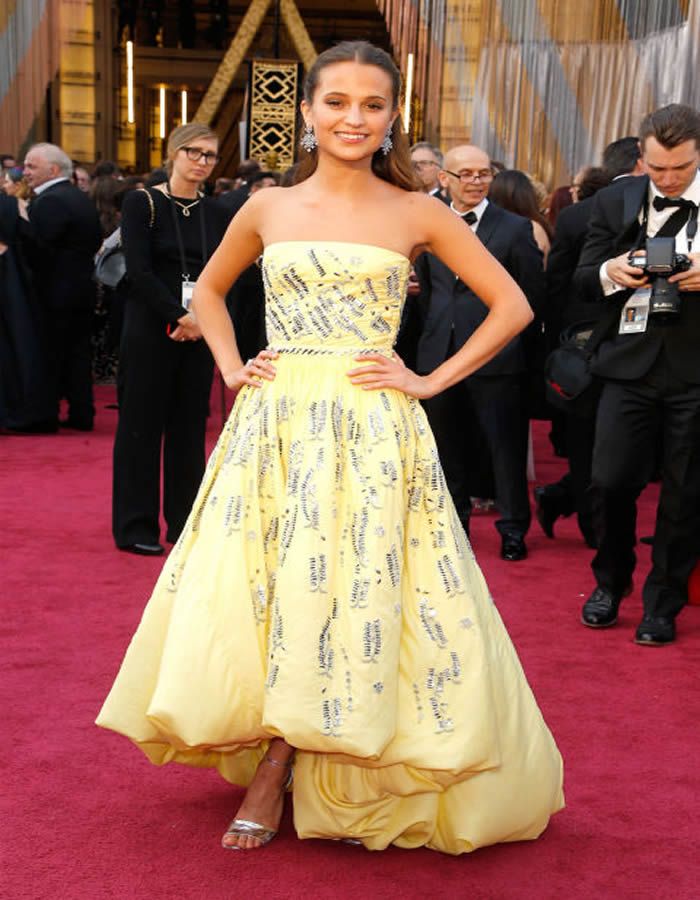 Aspects of this dress are gorgeous — not for nothing has it been likened to Disney's Belle from Beauty and the Beast. But the heavy balloon hem makes it look like Bed, Bath, and Beyond Heavy. Although, if she took her Oscar and flopped down onto the nearest backstage couch, it probably made for a wonderfully cozy nap.
8.MOST 3-D: CATE BLANCHETT IN ARMANI PRIVE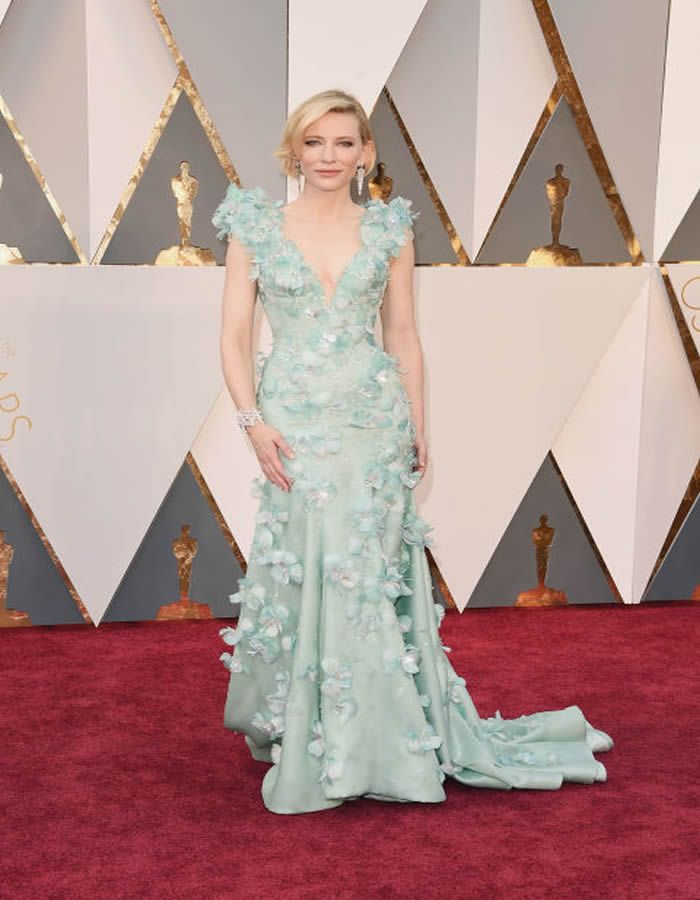 This delicate, lovely seafoam green confection sort of makes Cate the Great look as if she's just changed back into a human after spending a week experimenting with living as mermaid. We just want to walk up to her and touch it.
9.MOST BRIDAL: PRIYANKA CHOPRA IN ZUHAIR MURAD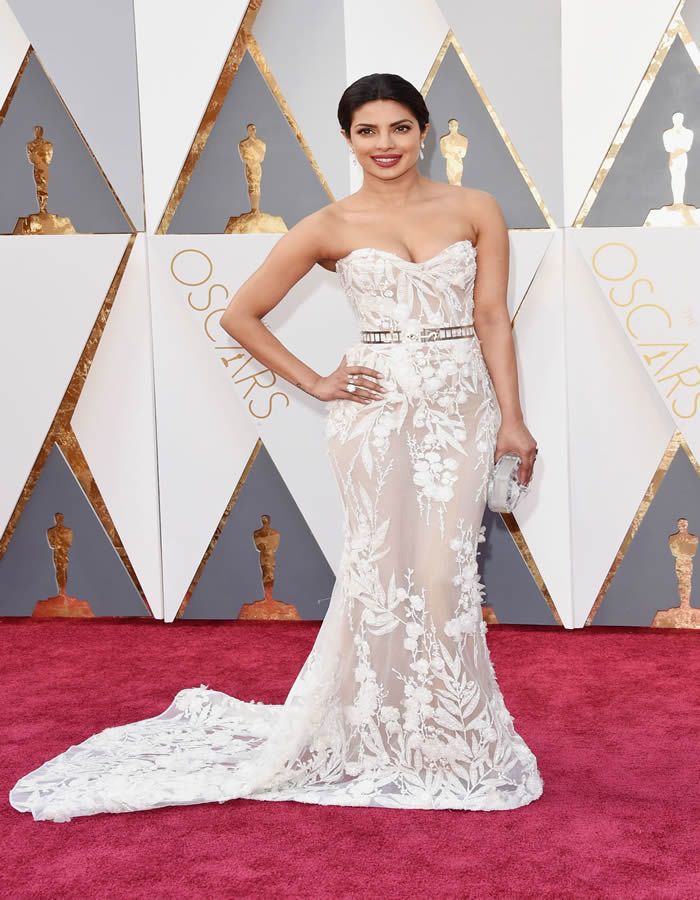 So much about this look is beautiful — not the least, the woman wearing it. We just wish it didn't feel quite so much like something J.Lo is considering for her fourth wedding ceremony.
10.BIGGEST YIKES: HEIDI KLUM IN MARCHESA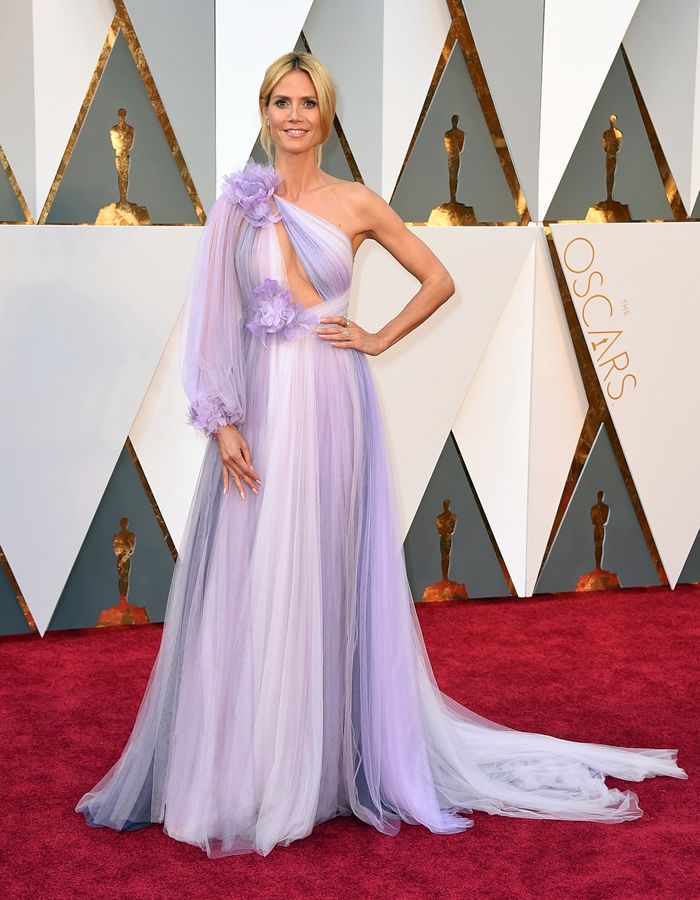 This is heinous. It somehow manages to be dowdy and tacky at the same time. There is no way Heidi would have liked this, had it been paraded in front of her on Project Runway. All we can say is: Fashion show judge, heal thyself.
11.BEST BOUNCEBACK: CHRISSY TEIGEN IN MARCHESA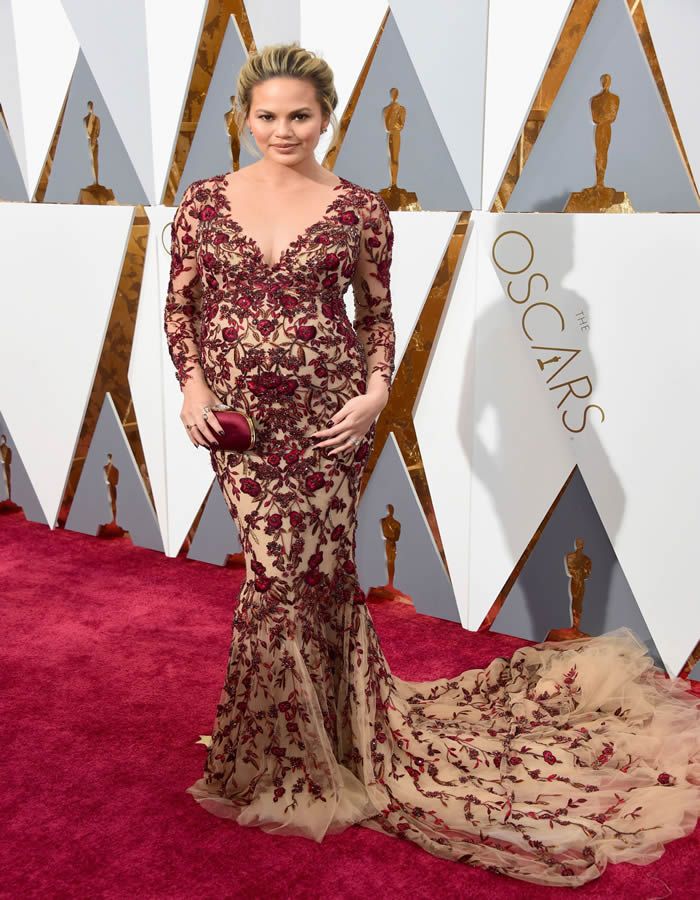 If Heidi Klum's Marchesa was an unmitigated disaster, this at least brings the design house's grade back to a nice solid C. It's a classic, flattering silhouette that celebrates Chrissy's bod, and is giving her baby girl one hell of a great start to her lifetime photo album.
12.BEST VITAMIN C INJECTION: OLIVIA MUNN IN STELLA MCCARTNEY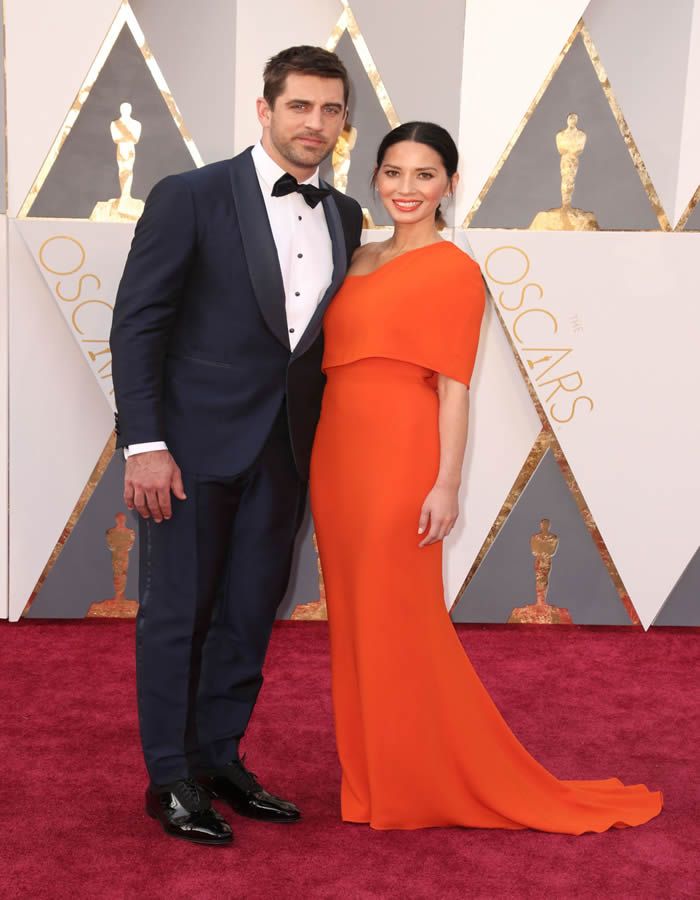 Is it "c" as in "casual"? Yeah, a bit— which raised some eyebrows on the industry's biggest night. But it's also "c" for "chic," and after the explosion of tooth-rotting frouf that was Heidi Klum's gown, it's really hard to dispute Olivia's choice to, in her boyfriend's parlance, pick an easy play to run, and then execute it to perfection.
13.BIGGEST ROOKIE-ISH MISTAKE: RACHEL MCADAMS IN AUGUST GETTY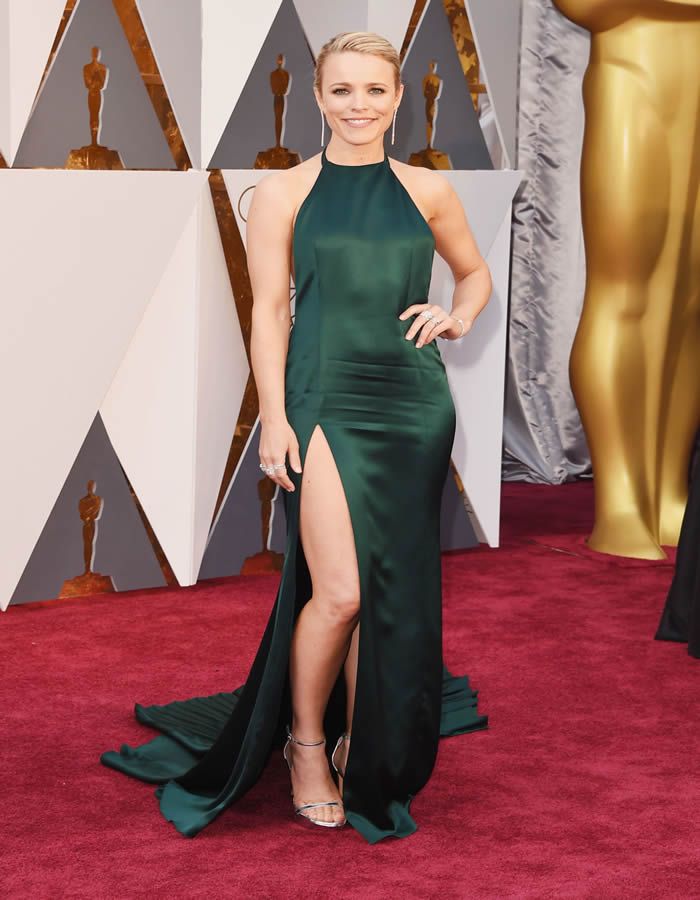 This isn't Rachel's first rodeo. So she should know better than to wear something this potentially wrinkly to the biggest PR opportunity of the year. Somewhere, her stylist is crying, "I told her to lie flat in the limo! Why doesn't anyone listen to me?"
14.LEAST SURPRISING: JENNIFER LAWRENCE IN DIOR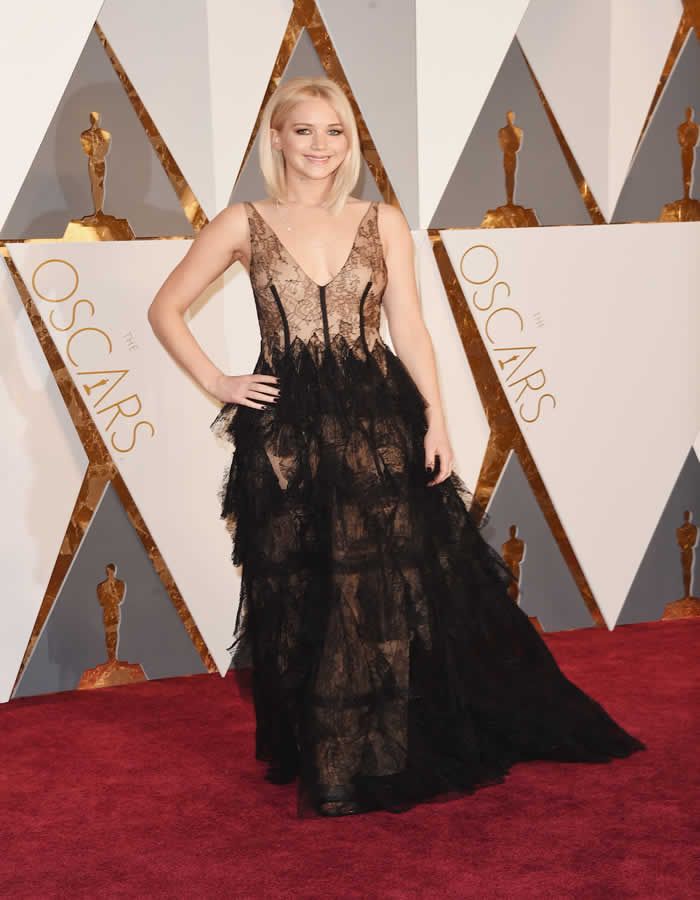 We're at the point in Jennifer's contract with Dior that we're just pleased to be able to say, "Well, we've seen worse." We're way more interested in side-eying the fact that she arrived too late to the red carpet to do any interviews and making up reasons why that might be. She claims she was sick, which would make this two Oscars in a row that she's been ill; our favorite theory is that she turned the limo around when she saw Charlize Theron's Dior and had to be talked back into action.
15.BEST THUNDER-STEALER: CHARLIZE THERON IN DIOR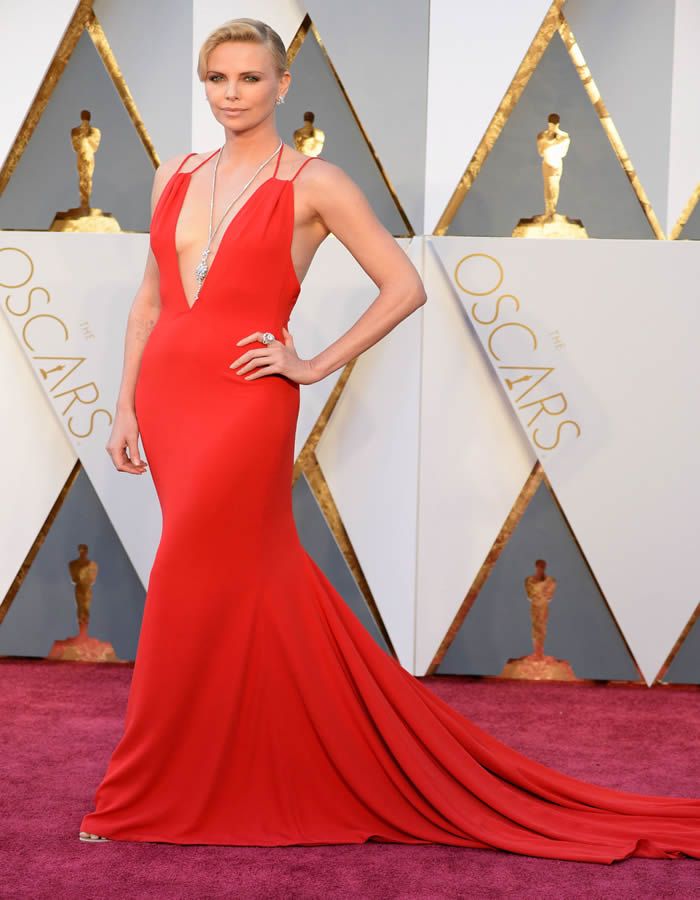 See what we mean? We wouldn't have wanted to compete with that either.